Bumps and Babes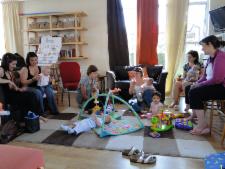 Due to the current government guidance bumps and babies has moved online via zoom. It takes place every Wednesday from 3.30-4.30pm please contact me at emma.rainier@ntlworld.com to get the zoom details. Everyone is welcome.
I run an NCT Bumps and Babes session on the 1st & 3rd Monday of the month
It runs from 1pm - 2.30pm at the 'Lounge', which is part of New Life Church, Old Woking GU22 9ER to see a map click here
Anyone is welcome (you do not have to be a member of the NCT) to come and have a coffee and chat with other local Mum's so feel free to bring a friend.
I ask for a donation of £1 per family to cover the cost of drinks and biscuits, any extra gets donated to the work of the Woking branch of the NCT
Dates of future sessions are the Mondays of;
2nd Dec 2019
6th & 20th Jan 2020
3rd & 17th Feb 2020
2nd & 16th March 2020